(To participate in "My Husband Rocks" click on the button below.)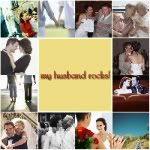 Daja
linked to Katy Lin at
The Great Adventure
and the beginning of her weekly posts on bragging out husbands, so I thought I'd join in the fun! What a great reason to boast about my hubby!
So many things! As this is supposed to be weekly, I'll start with a recent reason my husband rocks.
As my previous post mentioned, Karrots has a fever this week. She got extremely cuddly and couldn't sleep unless she was skin to skin with one of us.
Very early in the morning Karrots woke up crying, which she had been doing most of the night. Even though Big Red had work, he got up and brought her into the living room so I could get some sleep. I'm sure it sounds like a little thing to some of you, but it's huge in a world where the guy would expect the mother to take care of the baby every time special attention is needed in the wee hours of the morning, especially if she is the one staying home. I love being able to take care of her, but it can be exhausting when it's all night, so when Big Red made a conscious effort to let me, his pregnant wife, sleep, so he can hold a fussy baby, it made my day!
When I got up hours later to check on him, he was laying on the floor with Karrots and had a blanket over both of them. Adorable! He said he had just put her down a little while prior. He ended up going into work late.
Honey, I love you and appreciate the little and big things you do to help me out and all the ways you take care of me! I wouldn't trade you for the world!